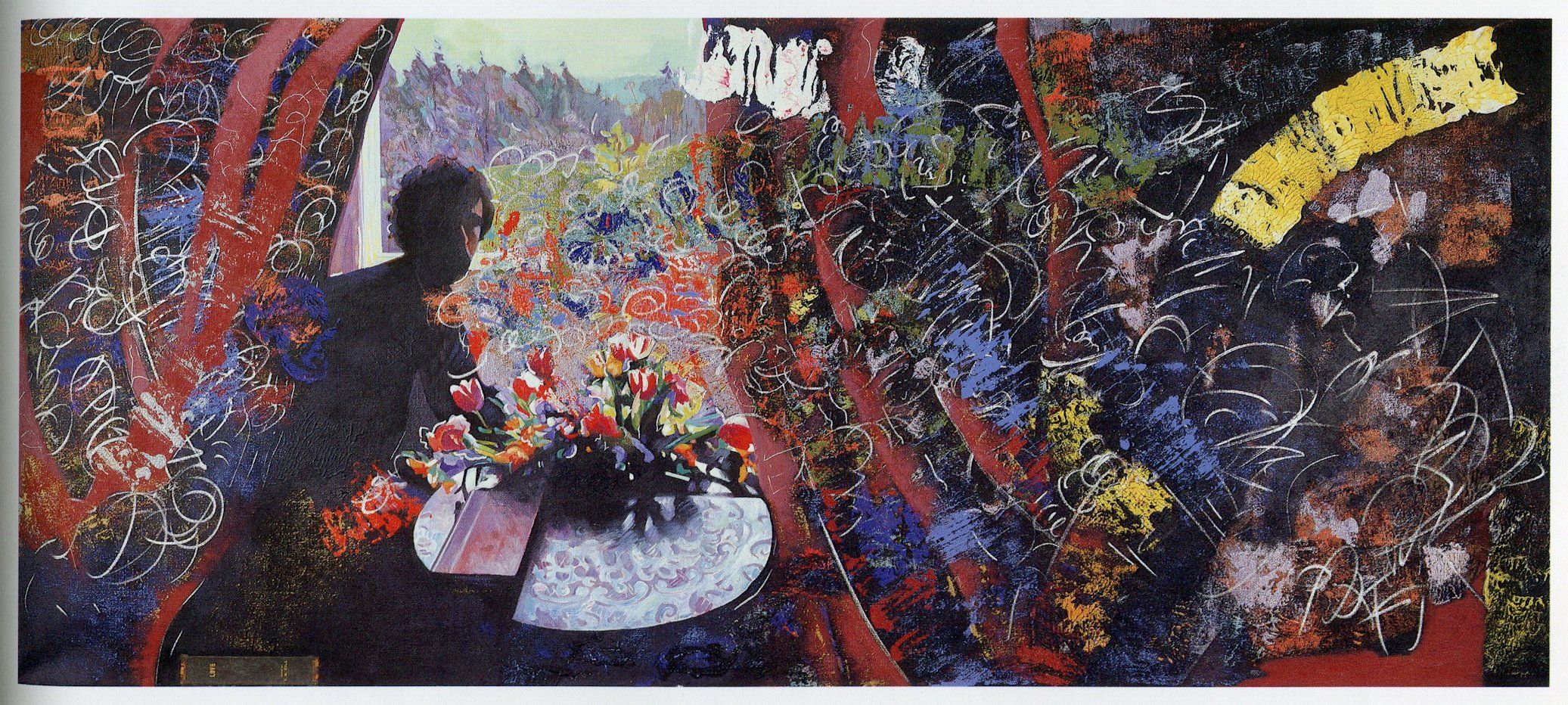 1983
36 in x 84 in Abstracted Realism Acrylic-Oil Pen-Collage
Joni's comments from the 1988 eclection art exhibition catalog: In 1983 while on a world tour, we stayed in a castle in Scotland. It had a wonderful library full of leather-bound classics. It was spring and they kept our room sweet with flowers. The air was thick with other centuries. This is a portrait of Larry in that room.
Taken from the Old Grey Whistle Test video. Joni was interviewed by Richard Skinner at her home and in her art studio in early 1985.
Richard Skinner:
There's a very recognizable image. That looks quite alot like your husband with all this amazing activity going around.What is this a picture of?
Joni Mitchell:
This is called "A Still Life With Commotion". It is very calm here. You can interpret it in alot of different ways. I would hate to limit it. It's the ghosts of Dalhousie Castle. It's the aroma of the flowers. It's a dialog taking place out of frame.
Richard Skinner:
It's love as it says on the book there.
Joni Mitchell:
Dalhousie Castle had a wonderful library.
Richard Skinner:
This is in Scotland.
Joni Mitchell:
This is in Scotland. This picture was taken in our room, in a hotel we stayed at in Scotland while we were touring there. It was so quaint. It had....there was a sense of history. Dark swagger drapes. Beautiful bouquet. Bouquet on the table every day.
Richard Skinner:
Just captured it.
Joni Mitchell:
But there was something else about the place. It reaked of history. Now I think it's become a commercial establishment. But it was vibeee.
Richard Skinner:
It's one of the most striking picture here, actually.