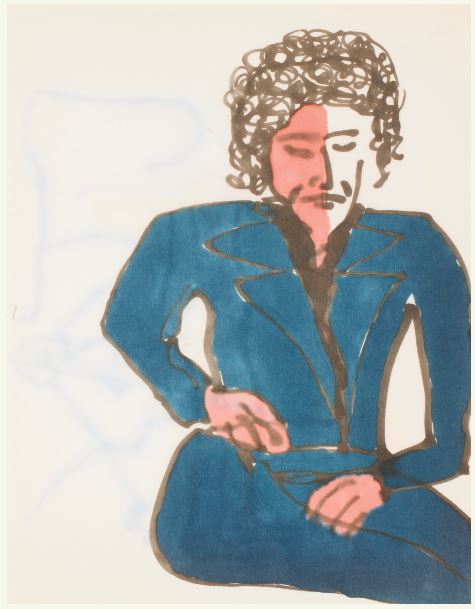 1969
14 x 11 in Felt pen on paper
Discovered on an auction site in June 2014. Auction Description Reads: This lot was removed from a black leather artists notepad circa 1967-1969, Joni Mitchell was using while living in Woodstock, New York.
Catalogue Note:
Joni Mitchell draws Bob at the time of Nashville Skyline and a legendary evening at Johnny Cash's home
:
Joni Mitchell first met Bob Dylan in May, 1969 in Nashville, while she was taping an appearance on the Johnny Cash television program and he was in town to record for the Nashville Skyline album. One particular evening during that time has gone down in musical legend as the visiting and local talent gathered at Cash's home. Cash recalled the evening during a 1985 appearance on the The David Letterman Show: "That night in my house [was] the first time these songs were heard..."Joni Mitchell sang 'Both Sides Now,'Graham Nash sang 'Marrakesh Express,' Shel Silverstein sang 'A Boy Named Sue,' Bob Dylan sang 'Lay Lady Lay,' and Kristofferson sang 'Me & Bobby McGee.' That was the first time any of those songs were heard."
Dylan and Mitchell remained close friends after this Nashville encounter.