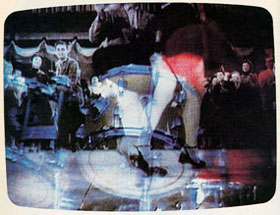 Double Exposure Photographic process on paper
(from Joni Mitchell by Angela LaGreca © Rock Photo June 1985)
Ten years later, Joni, working with photographer Joel Bernstein, employed a similar technique involving cross-fades. By shooting black and white stills from movies such as "Rock Around The Clock" and "Rebel Without A Cause," and then sandwiching them with colour footage from one of her live concerts, the "Shadows And Light" video (which Joni describes as "primitive with good moments") was created. From this video she selected the exact frames which make up the colour stills on the "Shadows And Light" album.