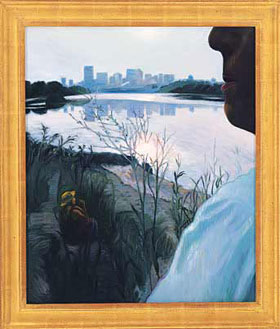 1996
28¼ x 24¼ x 2½ Late Figurative, Landscapes, Neo-Classicism Acrylic on canvas
(from Joni Mitchell Paintings Interview of Joni Mitchell by Rene Ingle © KCSN-FM December 21, 1999)
This is Edmonton, Alberta. Most of my relatives live there. In the distance you see a skyline. The Edmonton skyline came up late and fast because of oil money and is mostly glass buildings, so from a distance the pink glass or blue glass, it's quite an Oz-looking place. And in the bend in the river there is a foot bridge or a bicycle bridge, and there's a bicycle path that comes along this side, again, right at that point that stands out at the left-hand side. The following day I gave a concert. So this is the day before the concert and very close to the concert site but this is the North Saskatchewan River. The figure in the foreground is my boyfriend who's from my hometown. Donald and I grew up playing on the banks of the South Saskatchewan River, and one of the reasons that a lot of these images of he and I -- well, they're not all here -- they take place -- we have a Saskatoon, Saskatchewan thing about walking in parks. I don't know, it's just something locals do, you know. So we always end up in every city that we are renting bicycles whether it's in Rome and riding our bikes through parks and a lot of the images that I track home with me to paint come from those public spaces."
This painting and 'The Ice Offering' were both featured in the film 'Vanilla Sky' by Joni's long-time friend and filmaker Cameron Crowe. Thank you to Marcus Hauke for reminding me of this fact! I don't remember everything that should go on these pages. Thank you to the legions of Joni's fans that send in information to me.