Slouching Towards Bethlehem
Guitar chords transcribed by Paul Winkler
Tuning: DAEGAD (other transcriptions in this same tuning)
"Joni" Tuning: D77325
Tuning pattern: x77325 (others in this same pattern)

Download/View Transcription (PDF)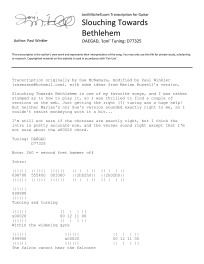 Author Notes:
Transcription originally by Sue McNamara, modified by Paul Winkler (zarmzarm@hotmail.com), with some ideas from Marian Russell's version.

Slouching Towards Bethlehem is one of my favorite songs, and I was rather stumped
as to how to play it, so I was thrilled to find a couple of versions on the web.
Just getting the right (?) tuning was a huge help! But neither Marian's nor Sue's
version sounded exactly right to me, so I couldn't resist monkeying with it a
bit...