Wayne Shorter
Posted March 02, 2023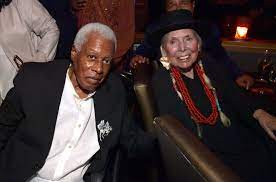 Wayne Shorter, the enigmatic, intrepid saxophonist who shaped the color and contour of modern jazz as one of its most intensely admired composers, died this morning in Los Angeles. He was 89.
Mr. Shorter had a sly, confiding style on the tenor saxophone, instantly identifiable by his low-gloss tone and elliptical sense of phrase. His sound was brighter on soprano, an instrument on which he left an incalculable influence; he could be inquisitive, teasing or elusive, but always with a pinpoint intonation and clarity of attack. - Nate Chinen
Wayne was Joni's 'go-to' sax player, and she asked him to record with her often- first on the Don Juan's Reckless Daughter album in 1977. He last recorded with her on 2002's Travelogue. Read more...