1975 Rolling Thunder Revue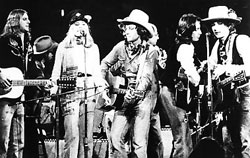 Tour details
Joni joins Bob Dylan, Joan Baez, Roger McGuinn,
T-Bone Burnett, Ronee Blakely and others on Dylan's
historic traveling road show.
Tour dates
Joni's Concert Tours
Please send comments, corrections or additions to: simon@icu.com
Have you seen Joni in concert? Add your memories!
Locate the concert you attended and click on the title to add your comments. Registered viewers can also upload photos, ticket stubs, concert advertisements, and other memorabilia.